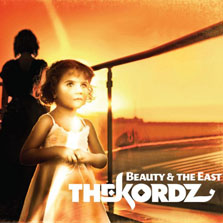 THE KORDZ groupe de Métal Progressif composé de 6 Libanais qui nous offre un album haut en couleurs. La pochette de l'album nous donne cette première impression, les couleurs chaudes, le champ en arrière plan et cette petite fille en premier plan, le ton est donné cet album sera chaud et émotionnel, j'aime beaucoup les albums qui révèlent une partie de leur contenu sur la pochette.
THE KORDZ n'en est pas à son coup d'essai puisque cela fait maintenant près de vingt ans que ce groupe existe, ce qui explique très certainement l'excellente production de l'album et la maitrise de l'ambiance générale. Le groupe nous entraine dans un univers planant, les riffs sont solides sans être trop agressifs, le chant est envoutant et j'apprécie la petite touche orientale sans abus.
En quelques mots un album frais et pêchu, énergique et envoutant, qui est pourtant très loin de ce que j'aime écouter.
Mais pour les fans de Métal progressif « Beauty & The East » est un album à découvrir, et on attend patiemment le CD et le DVD qui sortiront en Mars 2012!
http://www.myspace.com/thekordz
By Luna.