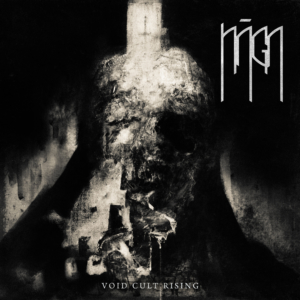 Groupe : Naga
Album : Void Cult Rising
Label : Spikerot Records
Date de sortie : 15 novembre 2019
Naga, c'est le serpent en sanskrit, une déité puissante, souvent associée aux forces souterraines. C'est le nom qu'a pris ce trio italien de blackened doom, originaire de Naples. Naga se forme en 2013 avec Emanuele Schember (choeur, guitare) et Lorenzo De Stefano (chant, guitare) après la séparation de Kill the Easter Rabbit. Dario Graziano (Nameless Crime, The Dead Dogs) les rejoint au poste de batteur.
Ils ont déjà un EP éponyme et deux albums (Hēn et Inanimate) à leur actif.
Mais aujourd'hui, c'est "Void Cult Rising" qui nous occupe.
Dès le premier morceau on plonge en apnée dans un domaine chaotique, sombre et hostile. Tout au long des sept titres, on restera pris au piège d'un rythme oppressant, lourd suivi de près par de longs riffs hypnotiques. La voix hurlée apporte un contraste intéressant à la grande technicité des instruments. Technicité qui n'est pas ostentatoire, et laisse passer beaucoup d'émotions, même si elles sont globalement plutôt sombres. Au final, Void Cult Rising est un bon album, on regrette juste le manque de différence entre les titres. Si le but de poser une ambiance unique tout le long de l'album, c'est réussi. Mais on pourrait aussi attendre une évolution plus marquée du premier au dernier morceau. Il faudra attendre le dernier titre, « Void Cult Rising », pour avoir cette impression de montée en puissance et de sensation de saturation complète, comme on peut l'attendre d'un bon groupe de Doom.

Liste des titres :
Only a God Can't Save Us
Show lyrics
Melete
Bedim the Sun
Thanatou
Pyre
Void Cult Rising