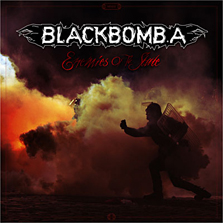 Nos petits parisiens sont de retour avec un cinquième album et un nouveau chanteur (arrivé dans le groupe pour l'enregistrement de l'album) écossais : Shauny D. .
C'est une vraie claque dans la gueule des les premières notes de « Come On Down », et le groupe n'a pas finit d'hurler sa colère.
Ils ne nous laissent aucun répit et ça fait un bien fou d'être attrapé avec autant de fougue. « Enemies Of The State » est un nouveau départ pour le groupe mais aussi un excellent retour aux sources.
Tout est percutant, la batterie d'Hervé nous pilonne le crâne en même temps que la basse nous berce et que les riffs de guitares nous emportent très loin.
Chaque morceau à sa propre identité, sa propre force et son propre message. Les intros sont travaillées (« Hell On Earth »).
Le changement de timbre de voix est un peu perturbant, BLACK BOMB A étant réputé pour son jeu de voix grave/aigue, mais on s'y habitue très rapidement tant la voix de Shaun trouve sa place à coté de celle de Poun.
Un album entier, vrai et sincère, musicalement excellent, vocalement puissant, très bien produit, et très bien présenté.
Bon pour les amoureux du son bon et puissant!
http://www.myspace.com/blackbombasong
By Luna.