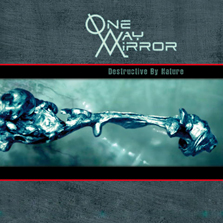 ONE WAY MIRROR est un groupe Français composé de musiciens issus de groupe plus où moins connu (Watcha, Scarve, Lyzanxia, etc….), né il y a 5 ans ils ont déjà sorti un premier album éponyme en 2008. Le visuel de l'album est intriguant mais aussi très bien travaillé.
La première chanson est très électro, autant au niveau des samples que des rythmiques guitares.
Le chant parfois crier d'autres fois clean est maitrisé, musicalement chacun gère très bien sa barque. Mais je n'accroche pas du tout sur le style à la limite de l'émocore (bring me the horizon par exemple). Certes c'est LE courant musical actuel, mais je pense qu'on est loin des capacités musicales de chacun. Alors choix musical assumé ou volonté de faire du commercial je ne sais pas….
Ce qui ne retire en rien la qualité d'enregistrement de l'album. Je me demande maintenant si sur scène l'effet sera le même ou pas….
Alors pour les fans de Bring me the horizon, Betraying The Martyrs, etc…. Enjoy !
By Luna.