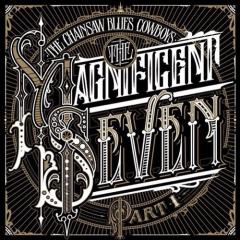 Groupe: Chainsaw Blues Cowboys
Album: The magnificent Seven – part one
Label: Stillrise
Distribution: Inouie Distribution
Sortie: 4 avril 2020
Note: 17/20

Quand on te parle d'un duo, tu t'attends toujours à un truc minimaliste.
A l'écoute de ce huit titres qui préfigure une deuxième opus, tu te dis que ces multi-instrumentalitstes sont des cadors : Après un premier album, « The good, the bad and the chainsaw », qui plantait bien le décors, les deux compères revisitent plus profondément le western à la Sam Peckinpah et à la Sergio leone.
Formé en 2011, ce groupe, originaire de Grenoble assène un dirty-blues-rock, mâtiné de gospel avec des envolée lyriques à la Ennio Morricone.
C'est à la fois simple et efficace : L'ambiance épique est là, le son des éperons à molettes Mexicains, le fétu de paille qui traverse la grand-rue, la poussière à peine nettoyée par un whisky et l'odeur âcre du cigarillo…
Mais, il y'a ce côté « cowboy du chaos », que ne renieraient pas les Fields of The Nephilim, le rock-gothique en moins, ou un Rob Zombie qui taperait sur le calumet de la paix des Apaches du Cerro-Caliche.
Oui, on est dans un univers sombre, à l'ouest du Pecos, sans loi. Mais un univers musical où on trouve le Blues, les Rock rappelant parfois du Jim Jones revue par sa sauvagerie, le Gospel des damnés, le tout sur une voix saturée mais toujours juste, sur des accords de guitare acérée et une rythmique cassante.
J'ai vu passer quelques photos d'eux en concert, j'ai vraiment hâte de les voir.
Et, si tu joues au jeu de rôles Deadlands, là, tu as du très sérieux !