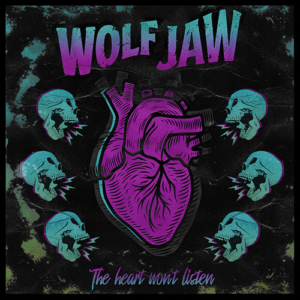 Groupe : Wolf Jaw
Album : The heart won't listen
Label : Listenable Records
Date de sortie : 25 octobre 2019
Le trio formé par Tom Leighton (guitare/voix), Dale Tonks (basse/voix) et Karl Selickis (batterie) a changé de nom en début d'année 2019, passant du bucolique Bad Flowers au bestial Wolf Jaw. Son album est le premier sous ce nom, mais le deuxième du combo britannique, après « Starting Gun » en 2018.
Au programme : du Rock n' Roll sans trop de fioritures, efficace et rageur. Les influences sont sensibles, avec une ressemblance prégnante entre la voix de Tom Leighton et celle d'Ian Astbury, de The Cult, en particulier sur "Ticking Time Bomb". Les paroles évoquent les combats, la loose et les tentatives de d'esquiver le diable qui réclame les lascars.
La guitare est très métallique et bien mise en avant, la batterie donne le rythme, le genre qui donne des envies de hocher la tête, ou de se préparer pour la bagarre.
Ils savent aussi ralentir un peu le rythme sans perdre en puissance rageuse, comme avec "Piece of me" ou "Open your eyes" qui ouvre sur une guitare épurée, en acoustique et la voix sans fard de Leighton, pour retrouver plus de saturation et de fièvre en milieu de morceau.
Alors certes, Wolf Jaw ne révolutionne pas le genre, mais accomplit un beau travail d'artisan du Rock.
Et comme on sent que sur scène, ça peut prendre une ampleur furieuse, sache qu'ils seront en concert le 10 novembre à Paris (Supersonic) puis en tournée avec Jared James Nichols. 
Liste des titres :
1. Hear Me
2. Ain't Ready
3. Ticking Time Bomb
4. The Fighter
5. Piece of Me
6. Open Your Eyes
7. Choke
8. I Lose My Mind
9. Shoulda, Woulda, Coulda
10. Beast
Exclusive CD Bonus track:
11. Living The Dream