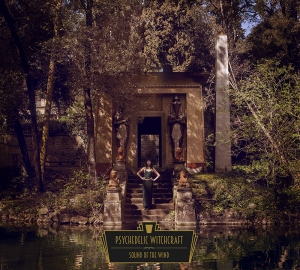 Groupe: Psychedelic Witchcraft
Album: Sound of the wind
Label: Listenable Records
Date de sortie: 27 octobre 2017
Note: 14/20
Tu aimes les vieux films de la Warner ? Le mélange rock-psychedelic-stoner ? Les riffs et la ligne rythmique à la Black Sabbath ?
Voilà la galette qu'il te faut !
Outre ces inspirations diverses, la très prolifique Virginia Monti et son gang te donnent envie de relire les BD de Druillet et, pour les plus vieux d'entre-nous, de te replonger dans les premiers numéros de Métal Hurlant.
10 titres sombres bien qu'enlevés, le tout surmonté par une voix qui n'est pas sans rappeler celle d'Eva O (Superheroïnes, Christian Death et Shadow Project) !
Trois EP et un album depuis la fondation en 2015, on peut dire que ça crée à toute blinde, en plus. Et bien !
Du ciselé, à la fois lourd et aérien, un truc qui te ramène vers les bases du death-rock, vers une route désertique sous un ciel d'apocalypse, comme un parfum de souffre que ne renierait pas le Ghost-rider.
Sound of the wind sonne définitivement comme un appel aux terres désolés et à la sorcellerie, on a hâte de voir ça en live, en tous cas !