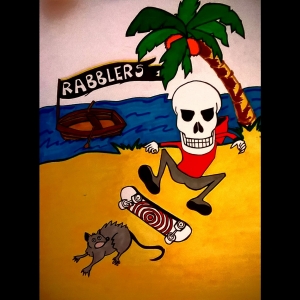 Groupe: The Rabblers
Album: Rabble
Date de sortie: Déjà paru
Note: 16/20
Avis aux amateurs de rock garage ! Avec the Rabblers un vent de rock'n'roll souffle fort sur les scènes de la capitale en ce moment.
Quatuor  formé en 2015 autour du skateur Akim Chérif, « The Rabblers » ne se prennent pas la tête. Une ligne de basse hypnotisante, une batterie explosive, quelques accords et c'est parti! Leur son expressif transmet sans difficultés l'envie de se bouger le cul!
Ils ont sorti l'été dernier un petit album intitulé « Rabble » disponible sur Bandcamp
Riffs punk, basse omniprésente, solos qui déferlent en arrière-plan… la construction des musiciens est simple et efficace.
Aux commandes du micro, La voix d'Akim roque et crasseuse, s'apparente à celle de Franck Black à ses débuts, tout de même moins criarde.
A la manière des Ramones sur « Hunted », de Jimi Hendrix sur « Money » ou encore des Buzzcocks sur « Sunday », la résonance du son typique des sixties donne du cachet.
Groupe puissant en live, ils séduiront un bon nombre d'entre vous. Ils sont là pour faire bouger la populace, alors n'hésitez pas à aller les voir lors d'un prochain concert!
Sex, Drugs and Rock'n'roll!
https://www.facebook.com/Therabblers/
https://therabblers.bandcamp.com/album/rabble