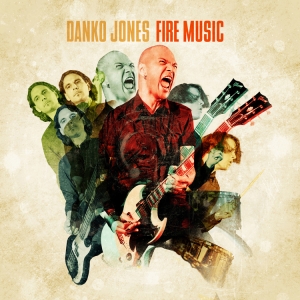 Groupe: Danko Jones
Album: Fire Music
Note: N/A
Date de sortie: 10 février 2015
Label: Bad Taste Records European
Il y a un peu plus de 2 ans, je faisais ma première kro chez Art n' Roll. Au menu: « Rock'n Roll is Black & Blue » de Danko Jones. Alors cette semaine, quand j'ai reçu leur nouvel album, « Fire Music », j'ai eu l'impression que la boucle se bouclait! Je suis de près ce groupe : je l'ai vu en live au Hellfest en 2013 puis il y a quelques semaine au festival Bring The Noise à Paris. Et même si le leader du groupe est un personnage haut en couleurs, décrit par certains comme assez antipathique, je reste fan de leur son et du bonhomme!
Quelques semaines avant sa sortie, le clip de « Gonna Be A Fight Tonight  » nous donnait une idée du son de « Fire Music ».
L'album marie le punk et le blues, toujours avec cette voix particulière qui sait varier le chant, la scansion et le cri ou le grognement, et plusieurs morceaux offrent de beaux refrains dignes d'être repris en choeur en live!
Comme pour les albums précédents, les thèmes sont très classiques pour du Rock n' Roll, mais on va pas bouder notre plaisir d'être en terrain connu! Donc tu trouveras des histoires de baston (« Gonna be a fight tonight », bande-son officielle de WWE Royal Rumble en 2015), un appel bien fébrile avec « Do you wanna rock », une histoire de drogué débutant (« Getting into drugs ») et d'autres à propos de coeurs brisés et de femmes sauvages (« I will break your heart » « Wild Woman » et « She ain't coming home »).
Danko Jones connait ses classiques et paie hommage par des riffs ou des intro qui devraient t'évoquer AC DC ou même Danzig (la batterie de l'intro de « I will break your heart »).
Je ne vais pas te mentir, Fire Music a déjà trouver une place de choix dans mon Ipod!