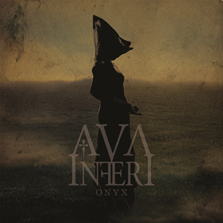 Oyez Oyez bonnes gens du metal, le nouvel opus de Ava inferi, successeur de «Blood of Bacchus», «Onyx» sortira ce 14 février sous le label Season of Mist.
Mélange détonnant de la voix chanteuse portugaise, Carmen Simoes, et du style doom et gothic metal, ce quatrième album d'Ava inferi nous emporte sur une redécouverte du fado portugais accompagnée par les riffs bourrins de nos copains de Norvège.
La recette a déjà fait ses preuves, avec les albums «The silhouette» en 2007, et «Blood oh Bacchus» en 2009, et une tournée européenne aux côtés de «Tiamat» et «The 69 eyes».
La créativité n'a pas quitté le groupe qui fustige mélodie, puissance et groove pendant près d'une heure.
Outre le gros son, et la voix magnifique de Carmen Simoes, il faut tout de même bien accrocher au concept «gothique post moderne» pour écouter «Onyx» en boucle.
Myspace : www.myspace.com/avainferi
By Chris.