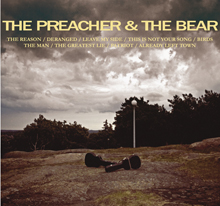 Bon voilà j'ai le cd de « The preacher and the bear », ok bon dans ma caboche reste un single de 1970… Rufus Thomas… de la bonne soul et r'n'b US.
Nan nan c'est pas ça.
Du banjo, des guitares folk, Elin Piel et Fredrik Pettersson nous emmène dans des ambiances feutrées et intimistes d'une pop en provenance de Suède.
C'est avec délicatesse que la formation enchaine des titres simples mais accrocheurs.
Au fur et à mesure de l'écoute les titres ne se ressemblent pas du tout, « The man » qui flirte avec la country, contraste tellement avec « Already let town », extrêmement lent, à ne pas écouter un soir de blues.
Globalement l'album est bien ficelé, il est très agréable à écouter et ne laisse pas indifférent, clairement c'est un opus intéressant pour les fans de folk.
La suède, qui nous avait habitué à une scène hardcore nous offre un bel exemple de pluralité musicale : on dit merci !
http://www.myspace.com/elinfredrik
By Chris.