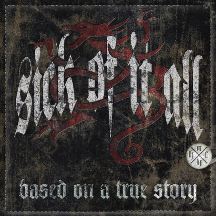 Style: New-York-Hard-Core
Le dernier CD de Sick Of It All se présente comme un recueil de contes mais pas de conte de fée, plutôt un compte-rendu. Based On A True Story est une sorte d'autobiographie d'un groupe, de son style musical le New-York-Hard-Core et de son attitude dans le temps.
L'album se lit d'une traite.
Le son est excellent, ni trop live ni trop brillant. D'ailleurs la basse  est  limite parfaite sur Waiting For The day.
Les quatorze morceaux qui composent l'album  sont tantôt pêchus Métal limite Speed, tantôt Old School comme pour reprendre un peu son souffle. Mais tous ont des riffs très accrocheurs et des refrains fédérateurs. Car Sick Of It All ne joue pas pour son public mais avec son public, la famille. Les vocaux de Lou démontrent qu'il peut aussi bien verser dans la rage (Watch it burn) que dans la mélodie (Lifeline). Les textes sont ma foi, sombres (Death Or Jail), parfois nostalgiques (A Month of Sundays) mais ne tombent jamais dans le négativisme, bien au contraire. Toujours cette dualité qui fait de SIOA un groupe de Hard-Core unique.
Le dernier chapitre Dirty Money est une pure pépite…heu point barre.
L'artwork est magnifique avec des photos live et session tout en sépia. Mention spéciale à celle qui tranche ce grimoire, où le front man est pris de dos face à son public, un bien bel hommage.
Alors, il était une fois Sick Of It All ? Non pas vraiment. Les quadras New Yorkais sont là et bien vivants, Long As as she's standing…