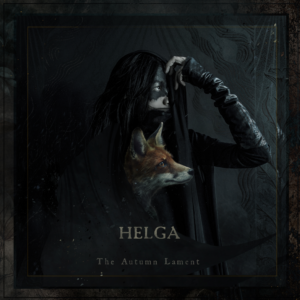 Groupe : Helga
Album (EP) : The Autumn Lament
Label : Icons Creating Evil Art
Date de sortie : 20 septembre 2019
L'automne s'en vient, voici qu'arrive l'EP d'Helga, de saison, comme tout ce qui est bon. Est-ce le cas ici ? On va essayer de le savoir avec cette chronique.
The Autumn Lament se classe dans les musiques mélancoliques sans être plombant. La voix est douce d'Helga, tour à tour lointaine, caressante, toujours bien maîtrisée. Très, voire trop bien maîtrisée en fait. C'est doux, c'est joli, bien porté par une musique qui ne déparerait pas en bande originale de film : du Metal qu'on pourrait qualifier d'Ambiant, avec une pincée de goth, un chouia de Sympho. A l'image de la photo de couverture où la musicienne apparaît masquée, gantée de cuir noir, le haut du visage peint en noir et accompagnée d'un renard. C'est sombre et très bien fait, ça donne envie, en particulier si on adore l'univers goth ou pagan. En gros, Helga (comme ce perso dans la série Vikings au fait) coche toutes les bonnes cases. Mais ça laisse un peu sur sa faim.
Bien évidemment, c'est un EP, il faudra donc attendre un prochain opus pour juger de la superficialité ou non de cette artiste.
Bref, à écouter par curiosité, mais peut-être pas 50 fois.
Liste des titres :
Mörker
Into the Light
Prophecy
Worlds apart
Sleep well, Rest in peace