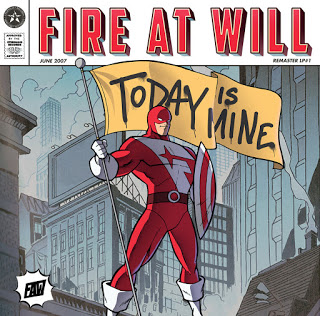 Album : The world is mine
Groupe : Fire at will 
Label: Eternalis
Date de sortie: Réédition de l'album sorti en 2007
Note: 14/20
Le groupe toulousain Fire at Will réédite leur premier EP « the world is mine", initialement sorti en 2007. Version remastérisée, pochette mise au goût du jour, un bon coup de polish qui fait du bien.
Fire at Will délivre ici un hardcore incisif, aux riffs puissants et rageurs à l'image de « Thick Models ». Certains passages se font carrément mélodiques, il en émane un doux relent de Punk Emo, qui vient contrebalancer le côté agressif des titres. La musique du groupe fait apparaître des influences Punk Rock bien assumées.
Les 6 titres sont bien construits, les variations de cadence accrochent bien l'oreille. L'interlude instrumental apporte une dose de fraicheur le temps d'une pause bienvenue.
Au chant Quentin partage sa fougue et sa ferveur, mais l'on regrette le manque de puissance. Les backing vocals comblent un peu ce manque et apportent des lignes de chants engageantes que l'on imagine scandées par le public en live.
Le groupe, sans se vraiment se démarquer sur la scène hardcore propose un premier EP très prometteur dans lequel on retrouve des influences bien digérées.