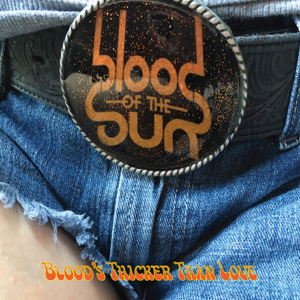 Groupe: BLOOD OF THE SUN (Listenable records)
Album: Blood thicker than love
Date de sortie: 19 octobre 2018
Label: Listenable Records
Note: 15/20
Les six p'tits gars de Fort Worth nous reviennent après six ans d'absence pour leur cinquième album studio. Fondé en 2002 les musiciens baignent pourtant dans une ambiance hard rock des années 70. Pour être plus précise, le groupe a été « fortement » influencé par Deep Purple. Bien que n'étant pas de la même génération, il est parfois difficile de dissocier les deux.
Blood of the Sun rentre dans le vif du sujet avec « Keep the Lemmys Comin », chanson rythmée avec des envolées guitaristiques et solos de clavier chers à feu Jon Lord. La voix suit le chemin en partant dans des tonalités proches de Ian Gillian. Pas de temps mort pour nos oreilles, on enchaîne avec un « My Time » plus rock, Les guitares se font plus présentes et la voix plus grave… si l'on devait rester dans les influences, je dirais que l'esprit de Black Sabbath se fait un peu plus ressentir sur ce morceau, toute première période bien sûr.
Le titre « Livin' for the Night » nous replonge dans un « Highway Star » remis à un peu de modernité (mais pas trop non plus, il ne faut pas abuser quand même!!). Beaucoup de solos de guitares encore une fois et un style de chant emprunté aux meilleurs groupes des années 70, Les deux derniers titres sont du même acabit : suite de riffs rapides et de solos de clavier.
Pour finir, je conseille cet album à tout fan de musique du rock dans années 70 et du duo Gillian/Blackmore en particulier. La pochette est stylée et donne le ton du contenu de ce « Blood thicker than love ». Malgré quelques longueurs (seulement 6 titres mais des morceaux d'une durée moyenne de 7/8 mn), l'ensemble se laisse bien écouter.
https://www.facebook.com/bloodofthesuntx/