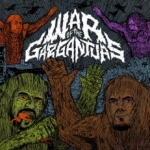 Philip H. ANSELMO Vs WARBEAST
EP War Of The Gargantuas
Sortie : 15 Mars 2013
Il y a des choses qui ne changent pas. La voix de Phil Anselmo par exemple. Sur l'EP War Of The Gargantuas tu trouveras 4 titres. C'est peu et beaucoup à la fois. Le sieur Anselmo, que je ne te ferai pas l'affront de te présenter, s'est acoquiné avec Warbeast, un groupe de Thrash américain, plus précisément texan. Et l'association produit donc 4 titres plus qu'efficaces en termes de rugissements, de brutalité et de Fucking Hostile !
Ça commence par Conflict avec un hurlement d'Anselmo qui te fait mesurer à quel point ça te manquait, cette violence qu'il sait parfaitement te communiquer.
Ensuite, on passe à Psycho. Au chant, c'est Bruce Corbitt de Warbeast. C'est du speed, pour une litanie égrenant toutes les pathologies dudit Psycho.
Avec Family, Friends, and Associates, Anselmo à nouveau et le genre de guitares qui l'accompagnaient dans une autre vie.
Conclusion avec It par Warbeast.
Ça ne dure que le temps de 4 titres et pourtant, ça te laissera essoufflé, vidé.
Un bon gros kif.