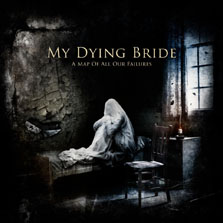 9.99/10
Sortie le 15 octobre 2012
Après avoir revisité tout leur backcatalogue sur le symphonique Evinta et fait patienté leurs fans avec un mini Lp qui n'annonçait que de bonnes choses, le voilà le My dying Bride nouvelle cuvée 2012.
A map of all our failures est un album à l'ambiance générale lourde, lente et sombre. Bien sur quelques riffs death viennent accélérer cette douloureuse descente vers l'inconnu et les envolées lyriques d' A. Stainthorpe, supportées par un violon aussi intriguant que discret, au contraire aèrent ce fog funéraire. Le front man peut y décliner sa poésie sous tous les registres vocaux, appuyant cette dualité doom/death mélodique si chère à ces pionniers du genre.
My Dying Bride a enfin décider d'assumer ce qu'ils sont en évitant de tomber dans le mielleux de leurs précédentes offrandes, chaque titre n'étant plus le patchwork mais l'aboutissement de 20 ans de savoir faire.
A map of all our failures est un album excellemment produit et sans aucune surenchère.
Comme un petit oignon, on a beaucoup d'appréhension avant de le peler. Mais au final, il apporte beaucoup de goût aux petits plats que sont nos vies.
Bon appétit !!
By Liza