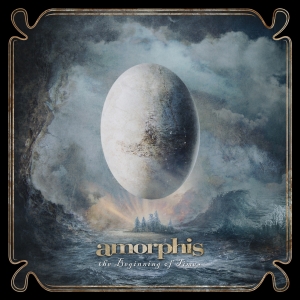 A'N'R : Que pensez-vous de votre nouvel album « The beginning of times » ? A quoi pensiez-vous pendant l'écriture des chansons ?
Niclas : Nous essayons toujours de dépasser les précédents albums. Nous avons écrit 18 chansons et choisi 12 titres pour cet album, à peu près de la même façon que les années précédentes. Je pense que le plus grand changement est que cette fois nous avons travaillé par parties de six mois et fait 2 tournées entre les deux. Donc, on a eu beaucoup de temps pour écouter les idées et travailler les morceaux, du coup nous avons pu faire tout ce que nous voulions. Je pense que ça sonne bien, tant au niveau des chansons que de la production de l'album.
A'N'R : Comment travaillez-vous ? Est-ce que chaque instruments est travaillé de son côté ou travaillez-vous ensemble ?
Niclas : Habituellement, la personne qui a l'idée l'amène en répétition, puis nous travaillons à partir de là selon l'état d'avancement de cette idée. Avant de passer en studio nous aimons travailler en répétitions seulement avec basse, batterie et guitare rythmique pour vérifier les petits détails. Une fois en studio nous jouons tous ensemble les morceaux avec ou sans voix pour bien focaliser sur la batterie, puis moi et Tomi Koivusaari enregistrons la basse et la guitare rythmique, habituellement nous faisons une chanson à tour de rôle. De cette façon, nous nous assurons que nous sommes dans le même groove.
A'N'R : A-t-il été difficile d'enregistrer cet album ?
Niclas : L'enregistrement a été très décontracté, nous avons été bien préparé avant d'entrer en studio. Nous travaillons avec les mêmes personnes depuis de nombreuses années et de façon naturelle, ça devient de plus en plus faicle à chaque fois.
A'N'R : Pour ce nouvel album, avez-vous des dates de concerts prévues en France ?
Niclas : Je ne connais pas encore les dates mais nous ferons une tournée des clubs européens vers la fin de la tournée.
A'N'R : Que pensez-vous des groupes de metal français (Mass Hysteria, Gojira, Dagoba, Loudblast, etc) ?
Niclas : Ces groupes sont différents les uns des autres. De ce que j'ai pu entendre, ils sonnent tous pas mal, comme je ne parle pas français j'ai un peu rien compris à leur paroles 🙂 et Gojira est assez connu ici en Finlande.
A'N'R : Que pensez-vous des fans français ?
Niclas : Nous avons joué dans des petits clubs et l'ambiance était géniale. nous sommes déjà allés dans pas mal de villes françaises et j'espère que nous aurons l'occasion de faire de nouvelles dates en France avec cette tournée.
A'N'R : Préférez-vous les gros festivals comme le Wacken, l'été dernier avec énormément de monde, ou les plus petites salles avec un groupe plus dense de fans ?
Niclas : Les deux sont sympas ! Le Wacken et d'autres festivals sont incroyables et y jouer est un plaisir, mais un petit club nous apporte également beaucoup en tant que musiciens.
A'N'R : Aimez-vous la musique classique ? Quelles sont vos influences ?
Niclas : J'apprécie le classique mais nos influences sont plutôt rock progressif, folk et metal classique. De temps en temps j'aime voir un orchestre symphonique, le son est époustouflant !
A'N'R : Avez-vous un autre interêt artistique à part la musique comme la peinture ou l'écriture ?
Niclas : Du temps pour d'autres choses… j'aimerais peindre, je pense que ça pourrait être sympa !
La même en version originale :
A'N'R : What do you think about your new album « The beginning of times »? What were you thinking about during writing the songs ?
Niclas : We always try to top the previous ones. We wrote 18 songs for it from where we chose 12 for the album, pretty much the same way as we used to over the last years. I think the biggest change from the previous once is that we worked on this in parts over almost 6months and did 2 tours in between. So there was a lot of time to listen to the ideas and work on them, so everything we wanted we could pretty much do. I think it sounds great, the songs and the production.
A'N'R : How do you work inside the band? Do you work the instruments all together or individually ?
Niclas : Usually the one who has the idea brings it to rehearsal then we work from there depending on how ready the idea is. Before the studio we like to do rehearsals just with bass, drums and rhythm guitar to check out little details. In the studio we usually all play the songs with or without vocals to track the drums, then I an Tomi Koivusaari record bass and rhythm guitar usually we do one song at the time and take turns. That way we make sure we are in the same groove.
A'N'R : Was it hard to record this album ?
Niclas : The recording was pretty laid back, we were well pre-paired before we entered the studio. We've been working with the same people now for many years so I think it just gets easier every time.
A'N'R : For this new album, have you plan any concerts in France ?
Niclas : I don't know any dates yet but we will do a European club tour around the end.
A'N'R : What do you think about French metal bands (Mass Hysteria, Gojira, Dagoba, Loudblast, etc) ?
Niclas : These bands are all quite different from each other. From what I heard they all sound great, I don't speak French so Mass Hysteria I don't understand what the are singing about. Gojira is pretty popular here I Finland too.
A'N'R : And about French fans ?
Niclas : We played in small but packed clubs and the atmosphere has been great. I hope we can make more dates in France with the up coming tour, there's a lot of citie we haven't been to.
A'N'R : Do you prefer a very big concert like Wacken last summer with so much people or with only the fans in a smallest area ?
Niclas : Both are great. Wacken and other big festivals are awesome to play but a small club can also be as much fun. In a club you can see the faces of people and on big festival you see just a sea people, when they start to sing or clap it feels like world cup final.
A'N'R : Do like classical music? Is it a musical influence ?
Niclas : I like it although our influences are more prog rock, folk & classic metal. Sometimes I like to go and see a classical orchestra, the sound is amazing whe they are all at it.
A'N'R : Have you got another kind of artistic hobby except music like painting, writing or anything else ?
Niclas : Time for other things. I wish I could paint, I think that would be fun.
By Djé et Chris.