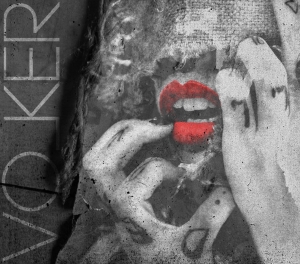 Groupe: Volker
Album: Dead Doll
Date de sortie: 28 Avril 2017
Label: Overpowered records
VOLKER est né en 2015 de la collaboration d'acteurs de la scène Metal française (membres et ex de Otargos, Regarde Les Hommes Tomber, Lifestream) et la chanteuse Jen Nyx (ex-Noein). Ils ont sorti un EP fin 2015 et reviennent en Avril 2017 avec « Dead Doll », un album de 12 titres dont un remix, « Yell », par CNX et une collaboration avec Arno Strobl (« Suicidal Love Adict »), connu pour être membre de Carnival in Coal.
Visuellement, par le look de Jen Nyx, l'artwork et le clip Obey, ça évoque fortement la scène Goth des années 90 et ces sous-genres Death Rock, Cold Wave, Horror Punk. Idem pour les thèmes abordés, les titres parlent facilement à l'imagination : « Freaky Bride », « Negative Waves », « Voodoo Baby », « Raven », « It Summons Me to Follow ». Volker fait resurgir toute la panoplie des films d'horreur de la grande époque. D'ailleurs on retrouve des éléments sonores de ce type de films dans « Voodoo Baby ».
Dans Dead Doll sont invoquées les relations ambigües avec la mort, apparaissent des visions cauchemardesques. Une poursuite féroce est racontée (« In Black and White »), de même qu'un mariage morbide (« Freaky Bride »). Pulsions destructrices ( « It Summons Me To Follow » et « Obey »), amours monstrueuses (« Suicide Love Addict », « Black Sunday »), magie noire (« Voodoo Baby » et « Would you play with me »), dépravation macabre (« Yell »), rien ne nous sera épargné.
« Yell » est particulièrement vicieuse, que ce soit par ses paroles, son tempo inhumain de boite à rythmes ou par la voix qui se fait tour à tour langoureuse, brutale ou froide. J'aurais adoré danser sur ce morceau, au Bal des Vampires des caves Lechapelais par exemple !
Comme devant un vieux film d'horreur, on se délecte de tous ses contes immoraux et malsains.
Côté son, Volker mélange avec soin de multiples influences allant du Sludge au Hard Rock, en passant par le Grunge. Ce qui pourrait paraitre trop éclectique s'équilibre sans problème dans la musique de Volker. La puissance vocale de Jen Nyx n'a pas de limite, elle passe du chant clair au chant hurlé et au growl sans difficulté. Par son énergie ravageuse, elle peut faire penser aux riot grrl des années 90 (L7, Hole et compagnie).
Au final, on en redemande, parce que ça pulse et ça électrise. Pour des histoires de morts-vivants, c'est étonnant de fraîcheur!