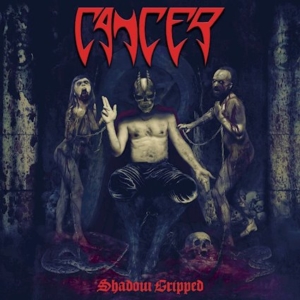 Groupe: CANCER
Album: SHADOW GRIPPED
Label: Peaceville
Date de sortie: 02 novembre 2018
Note: 15/20
13 ans après « Spirit in Flames », les britanniques du groupe de death metal CANCER reviennent avec « Shadow Gripped », Le petit plus est qu'après séparation, reformation, reséparation, reformation… ouf, le trio originel est de retour pour le plus grand plaisir de nos oreilles.
C'est bien connu, les groupes de death ne font pas dans la dentelle et Cancer ne fait pas exception à la règle. Le premier titre, « Down the Steps » en est le parfait exemple, du bourrin mais aussi de la technique… la brutalité continue avec « Garotte » et monte d'un cran. « Ball Cutter » ne faiblit pas, Les morceaux passent sur le même rythme, du pur son vintage que l'on aurait pu entendre dans les années 90,
Mention spéciale au sixième titre « Half Man Half Beast » qui a une intro apocalyptique digne d'un Morbid Angel à la grande époque de « Blessed are the sick ».
L'ensemble est d'une bonne facture, la production est bonne… du death classique qui ravira les nostalgiques des années 90, fans de Death, Obituary, Morbid Angel et consorts. Cancer n'a pas pris de rides et pour un come back, il est plutôt réussi.
Réaction : Retour réussi pour le trio britannique, qui remet le death des années 90 au goût du jour !