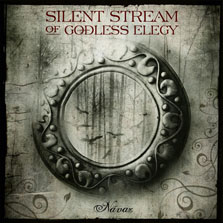 Silent Stream Of Godless Elegy est de retour avec « Navaz », 6ième opus depuis les débuts du groupe en 1995.
Venu de l'est, SSOGE se compose de deux voix, masculine et féminine, deux guitares, un violoncelle, un violon, et l'indispensable tadem basse – batterie.
L'ouverture nous embarque dans une ambiance fantastique façon Terre du Milieu.
On pourrait s'accommoder d'une comparaison rapide à Kells et comparses, mais là non impossible: choeurs, violon, guitares saturées, cerise sur le gâteau la langue chantée, du tchèque.
Sans rien comprendre aux paroles, on se laisse porter par les arrangements mélodiques comme sur «Sudice – The Fate», «Samodiva – Fay», où toute la bouillie est soutenue par nombre de nappes violoncelle – violon aux accents slaves, la base Métal fait de SSOGE un groupe de Folk métal expérimentale, étonnant ? Non. Surprenant !
Les titres s'enchainent sur le même concept , des refrains surpuissants et des couplets « enchanteurs », ça marche bien.
Pas trop étonnant que SSOGE ait été double AWARD dans son pays !
Le ton se durcit avec les titres «Skryj halva do dlaní – Hide Your Hea…», «Slava» et «Dva stíny mám – I Have Two Shadows», où le timbre de voix de Pavel Hrnčíř a un rendu expressif et non agressif.
Indiscutablement il  a du y avoir un énorme travail de mixage et de post-production.
En conclusion c'est un bon album, style à découvrir, ambiance à conquérir, voilà l'invitation lancée par SSOGE !
By Chris.